How to Pick the Right Dildo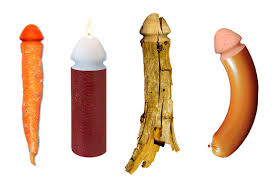 Finding the perfect dildo can be a little tricky; the choices seem endless. Dildos are available in various looks, makes, colors, shapes, length, girth, features, functionality, and flexibility that it's easy to get lost if you're not sure of what you want. The prices range from about twenty five dollars to a hundred dollars or more depending on the material on which it was made.

As with all purchases, the primary things to consider are your resources and needs. What is it that you desire to achieve and how much are you willing to pay for? If you have openly discussed this matter with your partner, then you will find an easier time finding the right product for you.

Here are some types of dildos according to their materials, and the pros of cons of each one:

1. Jelly Dildos – Popular because of their soft and supple consistency that is similar in feel to silicon, only cheaper. They are more rigid and spongier than silicon types. The porous texture makes it more difficult to eliminate germs, so it is best to use condom when sharing them. Use official water-based sex toy cleaners when cleaning, as plain warm water and soap will not do the job completely.

2. Latex Dildos – These dildos are smooth, bendy, and also give a natural feel. However, some people do have allergic reactions using it. They are very inexpensive, probably the cheapest types of dildos, but are very hard to preserve as they are flimsy and latex easily reacts with cleaning chemicals.

3. Silicone Dildos – These are one of the safest and easiest to clean types of dildos. If you are looking for a combination of a more realistic experience that is simple to maintain, this is perfect for you. They are a bit pricier than the rest, but you will definitely get what you have paid for. Silicone dildos can be boiled, bleached, washed with soap, and disinfected with alcohol without worrying that you might break it or that it might lose its effectiveness. They are also smooth, firm, and almost lifelike, and can last longer than ordinary rubber dildos.

4. Glass Dildos – This may look and feel odd, but they are safe and can be extremely beautiful. They are tested for use either in warm or cold temperatures. Glass dildos are usually made of Pyrex, which are very durable and scratch proof so you can safely insert them in your private parts without worrying about breaking. Some people prefer these types as they are very stiff and firm, while others shy away because of their unnatural feel. Glass dildos are very expensive, but are the easiest to clean and last the longest.

5. Cyberskin Dildos – These are the closest dildo to the real thing as it looks and feels considerably similar to human skin. They even keep heat when warmed, which adds to the realistic feeling. Cyberskin is also spongy like jelly or latex, so it must be carefully cleaned as well.